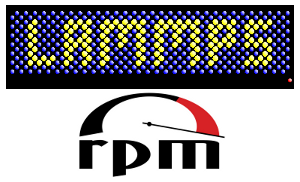 Building and Installing LAMMPS Precompiled Packages
The LAMMPS molecular dynamics simulation packages is usually installed and customized by its users from source code, which can be obtained from its Sandia home page as tar archives or from its GitHub project page as snapshot zip archive or git repository clone. However, for bignners, or people wanting to try something out quickly, or for tutorials, or for people running on platforms like windows, where compilers are not as commonly and conveniently available, having precompile LAMMPS packages can be very convenient and helpful.
The purpose of this webpage is to provide access to such precompiled packages that have been curated by the LAMMPS developers and contain as complete a set of features as technically meaningful and legally possible with the restrictions on some of the licenses for add-on libraries (typically the burden for the latter is higher for precompiled and bundled binaries, than for source code packages obtained from different sources).
The second part of this webpage is to document the tools and scripts used in the process of building these packages and descrbing the process or building the packages or repositories, so that people can go about and customize it or contribute solutions or iproved, alternate approaches for the procedures used.
---
Downloading, Installing and Using Pre-compiled LAMMPS Packages
These packages are executables containing a Nullsoft scriptable installer for Windows versions from Windows XP (SP2) to Windows 10. The packages are available for 32-bit and 64-bit Windows systems, with and without support for MPI (a link for a compatible MPI library installer is provided). These packages also contain several PDF format files with the LAMMPS manual and associated documentation, most of the example inputs, bundled potential files, benchmark input and some tools.
Downloading, Installing, Updating binary RPM packages for Fedora, CentOS and RedHat Enterprise Linux
Downloading, Installing, Updating binary RPM packages for OpenSuSE
Downloading, Installing, Updateing binary DEB packages for Ubuntu
---
Building binary LAMMPS packages
This page describes the tools used for and the process of building installer packages for Windows on Linux with the MinGW64 cross-compiler toolchain as bundled with Fedora Linux.
Building binary RPM packages for OpenSuSE
Building binary DEB packages for Ubuntu
---
Last modified: Tue Aug 16:51:12 UTC 2017 by akohlmey